REGISTER - Oct. 18 Lecture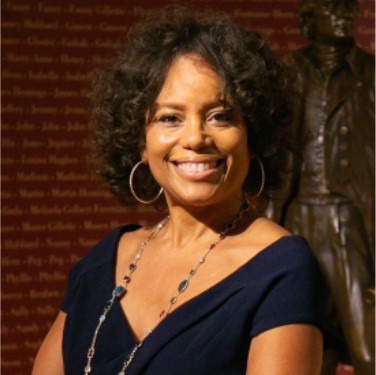 October 18—Gayle Jessup White
Revisiting Monticello
Gayle Jessup White became Monticello's first Community Engagement Officer in 2016. She is not only a direct Jefferson descendant, but also is related to two well-documented families enslaved at Monticello–the Hemingses and the Hubbards. A former award-winning TV reporter and anchor, Jessup White started her career at the New York Times. She's written and spoken extensively about her work at Monticello and her family's ties to Jefferson, his extended family, and the enslaved community.
Location: The fall lectures are in Room A on the 1st floor of 4801 Massachusetts Ave. NW.
Reservations Required: Due to limited seating, reservations are required to attend lectures.
Member Reservations: We e-mail the registration link to current members at 8:30 AM on the Tuesday preceding the next week's lecture. It will not be visible on the website's events calendar at this time. The only way to access the link is through the e-mail sent to members.
Non-Member Reservations: We make the registration link visible on the website events calendar at 8:30 AM on the Wednesday preceding the next week's lecture.
Each registrant may reserve one seat. Your name must be on the list of registrants to enter the lecture and you must be in your seat five minutes before the lecture starts to guarantee your seat.
Register for this Event